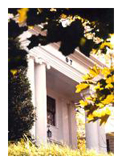 Following last year's external renovation of the Cupola, we've now put our focus on another major area of the house needing attention, the southern side of the house and dining room roof. Over the course of the last few years we've had an increasing occurrence of leaks in the dining room and kitchen which we originally believed to be tied to the the area where the dining room roof meets the side of the house. Please read on for details of what we found and the work currently underway to remediate....


Pete Daly '80 and his work crew are back at the Pi to tackle another substantial exterior improvement. This year we needed to address the leaks in the dining room and kitchen that were becoming increasingly troublesome. This was seriously impacting morale at the house and potentially causing significant damage to the interior infrastructure. Our original scope of work was to completely replace the dining room roof and repair some of the exterior siding and flashing where the roof met the southern wall.

Upon closer inspection, if became immediately apparent that the leaks were not originating at the dining room roof, but on the 4th floor yankee gutters. These gutters have been troublesome in the past, and this time around was no exception. The decision was quickly made to do a full renovation of the southern facing wall, replacing windows, siding and installing a new, pitched dining room roof. We elected to remove one of the bathroom windows and replace the remaining one with a smaller one for privacy, especially now that the house faces an open quad and academic building.

These pictures reflect the work in progress... we believe these improvements will eliminate leaks AND drafts and greatly assist with improving the heating efficiency of the house. It will also be a good blueprint for how the remainder of the house can look once all the siding has been redone.